Far too often we'll get a call from a new client or past client in a panic because their website has been compromised. Their website pages are no longer showing their content, there are malicious links within each page, google has labeled their website within search results as harmful and the list goes on. Our latest call was from a client whose website had 30,000+ pages of spam added to it. Google indexed these pages and now anytime you search for their brand or service, you might find a link from their website offering you male enhancement drugs. Taking preventative measures are key to a healthy website and healthy presence within the search engine world.


Enhance Security
WordPress is vulnerable to security attacks just due to its massive size and popularity; it attracts the attention of those seeking to inject a virus and is a target for hackers. Their goals are to find vulnerabilities in old outdated plugins and then finding websites throughout the globe to attack. Just recently, there has been a surge in security issues for WordPress in cross-site scripting that has adversely affected large plugins like Easy Digital Downloads and Jetpack. Even if plug-in developers fix the problem, if your CMS and plugins aren't up-to-date, it won't save you from being vulnerable and quite possibly losing all of your data. There are several ways to keep your CMS up-to-date. Use the Updates screen to manually update it. There's a choice to update everything or individually. Updating is just a click away, and there's really no reason not to do it.  If you continue to run the old version of WordPress, you open the security hole for potential hackers and the last thing you need is to lose money or clients. It's also important to note that wannabe hackers can easily search for sites running older versions of WordPress.
Ramp Up Performance and Fix Bugs
Updating a CMS system and plugins also enhances performance by allowing the system to run more efficiently and faster with less server load. Under the hood, it ramps up complex queries and API. When you update your CMS, you get the latest release to fix bugs and security patches. When trying to rank high for your search terms it's key to have a optimized website that loads fast.
How Often Should You Update?
Industry experts recommend updating monthly if you have a lot of traffic. Otherwise, you can update your CMS and plugins quarterly. It's also recommended to check with your web developer first when you have a complex site. How do you know if anything needs updating? Check your WordPress dashboard and look for the red circle next to updates and also next to the plugins tab. If you see the red circle, it's an alert to update.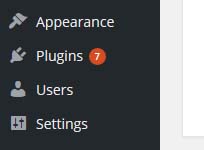 The benefits of using the latest versions of WordPress greatly outweigh the disadvantages. Ward off security attacks, get better site performance, fix bugs and get access to the latest features with timely updates. Unfortunately, many webmasters don't update in a timely manner.
Backing Up Your Website
More importantly than anything is having a backup of your website. You've invested too much money into your website for it to poof and disappear. Having a backup of your website is essential and that includes all of the files, folders and database. If you update your website regularly, having a backup daily or monthly is what we suggest. At Xplode Marketing we typically save the final project files on a hard drive. Having a software or service that automatically backs up your entire website and files is what we suggest.
Most business owners and entrepreneurs are busy focusing on what drives more sales and generates more revenue. We understand the need to outsource to companies like Xplode Marketing and that's why we put together a maintenance program that includes all that was mentioned above along with security suites and features. Don't be one of those callers in a panic and be sure to update your CMS, plugins and backup your website… Or give us a call and we'll make it happen! 941-585-0009