Without a doubt, Google is the force behind the mobile revolution. It's the world's largest mobile platform provider and the world's largest mobile search provider. When it comes to mobile, Google calls the shots. And if you haven't heard the news yet, Google is scheduled to release its mobile-friendly algorithm update on April 21. Google considers mobile to be highly significant, and the update will be bigger than Penguin and Panda. So, get ready to gear up for a major adjustment in mobile search functions.
Is Your Website Mobile-Friendly?
To determine if your website is mobile friendly, test it out on Google's Mobile-Friendly Test page. Although this test isn't without a few flaws, it's an effective gauge to determine whether or not your website is in Google's good graces. Another method to test your website's mobile performance is to do a search for it on a mobile device. If the SERP entry has the mobile-friendly label, then you're good to go.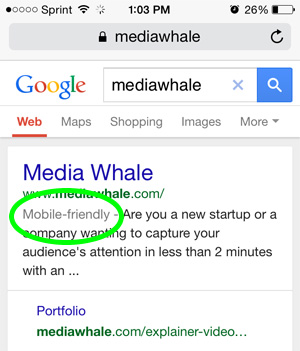 Take it a step further and run your website through Google's Mobile Usability Report. You can find it in Google Webmaster Tools or https://www.google.com/webmasters/tools/mobile-friendly/. With this report, recommendations are given to ramp up mobile use.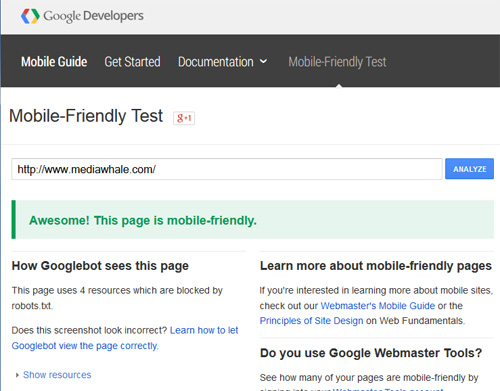 Notable Changes in the New Algorithm
The new algorithm will be analyzing mobile compatibility on a page-by-page basis. Google will be taking a look at the mobile-optimized pages and promoting only those that are optimized. At the same time, Google won't be penalizing the entire website if there are some pages that aren't optimized. Be sure that your website is well-designed and responsive.
Another feature of the new update will be real time. That's really good news. If your website isn't mobile-friendly by the April 21st launch, you can optimize it any day, and the bots will crawl the page for a new score of mobile-friendliness.
App indexing is also a new feature for sites with associated Android apps. Its purpose is to tighten the connection between mobile application and mobile search. To enhance app indexing, Google recommends the following:
Verify the app's official website on Google Play Console
Add deep links to reach specific content in the app
Check for errors in Webmaster Tools and fix them
Provide deep links for each web page with corresponding deep links on the website or in the sitemaps
What You Need to Do to Brace for the New Changes
When Google gives the command, it's wise to follow. If you don't, you'll be left in the remaining dust. You're going to have to adapt to the new mobile-centric world of marketing. Be sure that your website is responsive and address any mobile usability problems with Google's Webmaster Tools. And if you have an Android app with your website, make sure it is deeply linked and indexed quickly. Lastly, monitor your website's metrics after the roll out of the new algorithm on April 21st. Keep testing and adapt. And may the Google gods be with you.