We're excited (as you see in the image above) to announce that we've been rated a top web design firm in Florida.
Xplode Marketing is a full-service interactive media company focused on building brands and companies through digital strategies. We have a very good track record with our previous clients which is reflected in our 5/5-star rating on Clutch.co. Our client ratings show that we have an exceptional ability to meet deadlines and our team of talented designers has the necessary skills to fulfill all of your firm's web design and branding needs.


With that said, we are very excited to announce our recent feature with Clutch, a hub for B2B service providers. We believe that working with Clutch will help us curate more online reviews and make it more likely that we win organic leads.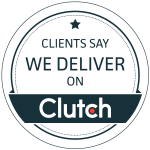 Our feature on Clutch among the top logo designers makes us very proud. We have been operating in Florida since 2007 and we believe that this distinction is a testament to the hard work that we've put in over the years. We understand that Clutch carefully evaluates each firm based on their customer relationships, overall ability to deliver service, and general brand strength before adding them to their list. 
Our team's experience, our competitive price point, and our reliability is what sets us apart from other design firms. Our team always dives deep into the projects that we take on to ensure that all of our clients' ideas can come to fruition. Your firm doesn't have to sacrifice quality when working with us and we will save you money and time by fulfilling deadlines quickly and efficiently.
In addition to our work with Clutch, we have also been profiled on The Manifest and Visual Objects, two of Clutch's sister sites that function as additional resources for businesses looking for solutions to their business needs. We are extremely honored to be named one of the top web designers in Tampa for 2019 by The Manifest and among the top web designers by Visual Objects. We look forward to expanding our reach with Clutch so that we can help your company with all your web design and marketing needs!